Decorative bricks
INTRODUCTION
Silicate bricks are a perfect construction material in the Nordic climate. Weatherproof, natural and also dignified.
Silicate bricks are perfect for building clean joint walls that do not need addional finishings, load-bearing walls and partitions and as the extrerior lining of chimney heads. A prerequisite for a long-lasting brick lining is using high-quality product and masontry mortar, and also executing the masonry work correctly. In order for a silicate brick exterior to last long-term use without defects, good design and construction practices must be followed.
For the best properties and also appearance, the most beneficial way to use bricks as a facade material is to use them as a clean join wall so that the bricks are visible in their original form. This results in a slightly grayish white wall. Silicate bricks are a long-lasting and durable construction material – a good example of this is the building of the National Opera Estonia (1913) and the Munamäe visitor's centre (1939) at the top of the highest hill in the Baltic States.
In addition to smooth bricks, Silikaat also makes decorative and structured bricks which are made by hand using rough trimming and splitting.
Read more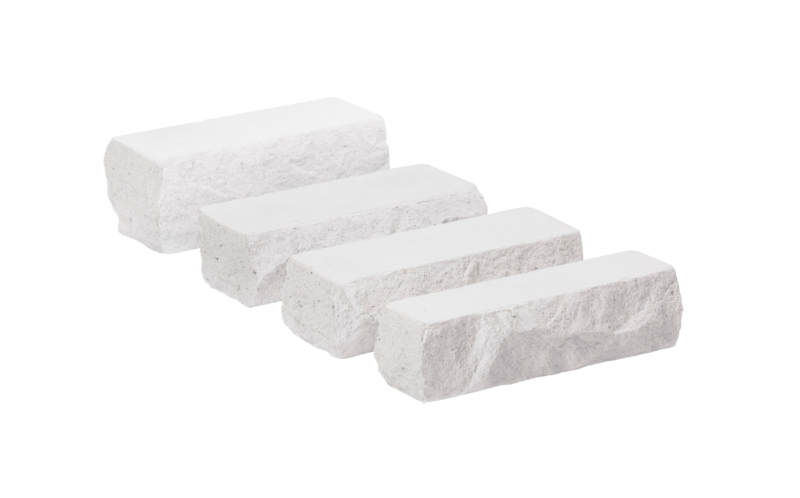 Dignified
Attractive and dignified appearance that gives a visually secure impression of the house as a fortnress. Timless brick motive is being used more and more also as an interior design element. Smooth, rough and split bricks are also widely used for fence posts.
Strong wall
Due to high compressive strength (25 Mpa), silicate bricks can be used to build contructions of up to 9-floors. Heavy loads can be attached to walls (water boiler, furniture).
Weatherproof
108 freeze cycles. Traditional, natural construction material for the Estonian climate that has stood the test of time.
Rough-trimmed bricks
Measurements (mm)
250x60x65
250x85x65
250x100x65
250x100x88
Quantity per pallet (pcs)
140
105
84
60
Roughly trimmed corner brick
Measurements (mm)
225x60x65
225x85x65
230x100x88
225x100x65
Quantity per pallet (pcs)
140
105
60
84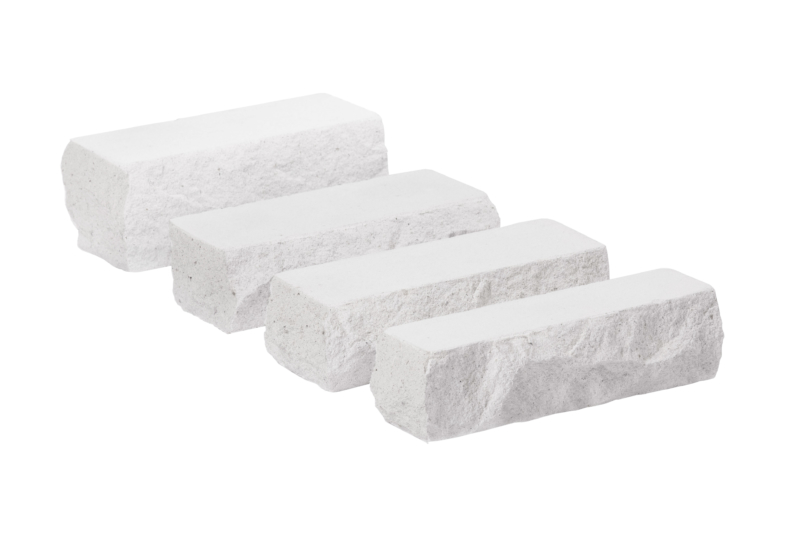 Split bricks
Measurements (mm)
250x60x65
250x60x88
250x85x65
Quantity per pallet (psc)
168
120
120
Split corner brick
Measurements (mm)
220x60x65
190x60x88
220x85x65
Quantity per pallet (psc)
168
160
120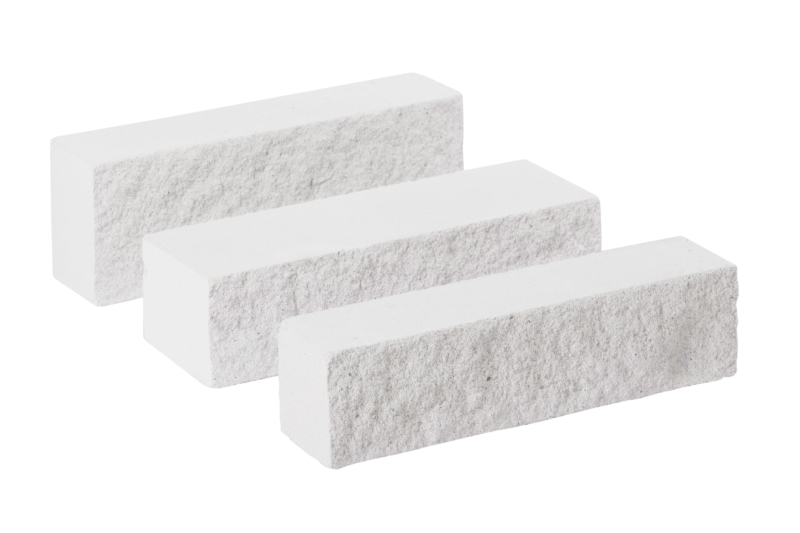 Technical specifications
| | |
| --- | --- |
| Property | Value |
| Compressive strength | 25N/mm2 |
| Water absorption rate | 0.6 ... 1 kg/m2min |
| Thermal conductivity | dry stone λ=0.7….0.8 W/mK moist stone (W=5%) λ=1.0 W/mK |
| Frost resitance | At least 108 cycles |
| Fire resistance per given wall thickness; values taken from "Eurocode 6: Design of masonry structures; Part 1 - 2: General rules Structural fire design" tables NA.N.B.2.1 - NA.N.B.2.5 and apply to a wall without finishings. | 120 mm - REI120 250 mm - REI240 |
| Density | 1850 ... 1950 kg/m3 |
| Moisture shrinkage | ε = 0.2….0.4mm/m |
| Bending strenght | 4 ... 5N/mm2 |
| Fire resistance | Non combustible (class A1) |
| Noise insulation index | 1- stone wall – 56 dB ½ -stone wall – 48 dB ¼ - stone wall – 44 dB |
Application
Masonry
The same principles apply to silicate block masonry than to the use of other silicate bricks. The base constructions (footing and foundation) must be level, stabile and strong. Proper water insulation must be installed onto the foundation so that the humidity that permeates the foundation would not spread into the walls. The blocks must be moistened before laying and masonry mortar with the right consistency used. In order to create proper adhesion between the mortar and stone, the mortar must not be too dry. In case of a too runny mortar, the mixture will pour out from the joints and the mixture might not achieve the necessary strength. Using a more liquid mixture will not compensate for the need to moisten the stones. The more fine-grained the mixture is, the more convenient it is to work. In hot and dry weather, the wall must be stopped from drying too quickly. Silicate bricks cannot be used for foundations or load-bearing basement walls. Silicate walls must not be covered with something that prevents drying. The wall may be painted with a paint that has a very good water vapour permeability.
Building the wall has to begin from the corner.
How to make a structure last long?
A prerequisite for a long-lasting brick lining is using high-quality product and masontry mortar, and also executing the masonry work correctly. In order for a silicate brick exterior to last long-term use without defects, good design and construction practices must be followed:
Not to use silicate products in the soil and in ground floors
Separate the ground floor and structure with watern insulation
Prevent water from falling onto the silicate structure (eave width, ground floor height)
 Properly filling joints with masonry mortar
Ensuring ventilation behind the lining (every third vertical joint empty above the ground floor and the rows above openings)
Expansion joints (every 10 meters)
Reinforcement nets with corrosion protection (at least after the first row, below the last row, above and under openings)
Anchors to the main construction (at least 4 anchors/m²)
When carrying out masonry during the winter, follow the regulations that apply to ensuring the hardening of mortar in low temperatures.
Cutting a silicate brick
A suitable tool for cutting  bricks is an electrical disc cutter with carbide teeth. For openings and passages, use a hole saw with carbide teeth.
Bridging openings
The weight of the block rows above windows and doors is distributed to both sides of the opening using lintels. Reinforced concrete lintels are most suitable for a silicate block wall. The type of the lintel is determined by the designer. There as to be an uncut block/brick under the footing of the lintel. In case of openings of more than 1.5m, the minimum bearing surface under one end has to be at least 250mm.
Expansion joints
The purpose of expansion and temperature joints is to prevent cracks caused by reduction of volume in long sections of the wall or changes in temperature. The joints are vertical and pass through the wall. These are filled with an elastic filler, which is why the separated parts of the wall can move in relation to each other without damage. The recommended distance between two expansion joints is 10 m.
Finishing
A structure built of decorative or structured bricks does not need additional finishings. This way the structure of the surface of the brick has a better impact. In case of well defined joints, just paint is sufficient.
Send inquiry